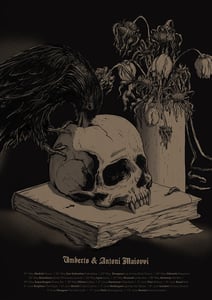 €

19.00
Limited edition run of 30 posters designed and produced by Chá de Polpa for Umberto & Antoni Maiovvi's European Tour, Summer 2015.
Hand pulled screen prints.
Metallic ink on black paper.
(color may vary slightly)
Measurements: 35 x 47 cm poster.
250gr paper / French cotton-based paper.
Signed & Numbered.
Our prints are sold unframed and rolled with Kraft paper in a sturdy postal tube.